Robert Hunt Automatic Driving Instructor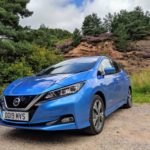 My name is Robert Hunt I teach people to drive in an automatic vehicle
I have been teaching to people to drive for over 15 years I have many happy customers and as you will see from my reviews I do not shout. I am very familiar with all the local test routes at Cobridge and Newcastle. I have many ways of teaching you the reversing manoeuvres so if you have struggled in the past I will be able to help you.
My Vehicle
I I teach in a brand-new fully automatic Nissan leaf, which is fully electric this vehicle is comfortable and very easy to drive and you will have the knowledge of knowing that I only charge on renewable electricity, which means you are not in polluting your local environment while you learn to drive this is even more important in this day and age than it ever has been before. Take a look at the vehicle you will be driving 
The Area I Cover
I teach people to drive in a automatic car, the area I cover is ST3,ST4,ST2,ST11,ST10.ST12 area. I can pick you up from home or work and sometimes if you would like to be picked up from home and dropped off at work then this would be fine to. Feel free to contact me its best to text as I don't like to take calls while I teach.
Text 07859 058401
Send me your name and postcode and I will call you back as soon as I am free.